Longjin Pharmaceutical Donated RMB 1 Million to Help Coronavirus Combating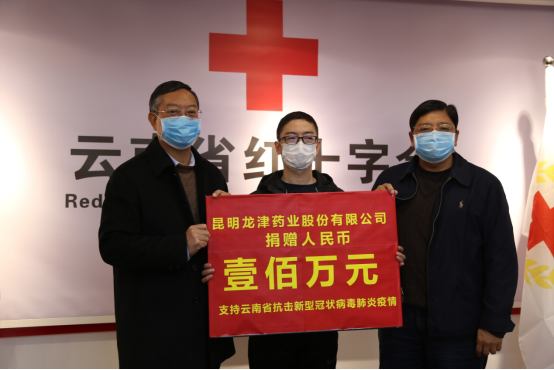 The Chinese New Year 2020 was unusual. Coronavirus soon swept the whole country starting from Wuhan.
The city of Wuhan was blockaded, roads at many places were closed and factories and schools were stopped extensively… The sudden epidemic broke the peace. The country, regions, enterprises and even individuals suffered from unprecedented difficulties and losses. As the diagnosed patients were increasing rapidly, the front-line medical institutions also faced various difficulties such as serious medical materials shortage.。
Adhering to the development concept "Bringing Health to the Mankind", Kunming Longjin Pharmaceutical Co., Ltd. always puts social responsibility and patriotism in the priority. Since the outbreak of the epidemic, Longjin Pharmaceutical has actively contacted relevant departments to know the donation procedure, and relevant leaders went to the Yunnan Red Cross Society to donate RMB 1 million on February 6th, 2020, and Zhang Kuanshou--the Executive Vice Chairman of Yunnan Red Cross Society, and Dong Hechun—the Party secretary of Yunnan Red Cross Society accepted the donation. Longjin will also contact relevant medical institutions through the Red Cross Society to donate the breviscapine for injection produced by Longjin to help institutions and patients overcome the difficulties as far as possible.
The epidemic has no mercy but human beings have. When one party is in difficulty, all others will provide support. We believe that, with the great assistance by people from all walks of life and affectionate enterprises, our great, strong, brave and united nation will eventually overcome the epidemic and win this special war. We hope that our motherland and Chinese people will overcome this difficulty, resume normal production and life as soon as possible, live and work in peace and contentment and build a well-off society together.